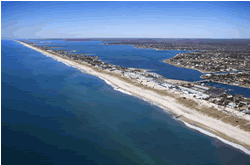 Long Island is, for the purpose of this article, is comprised of two counties, Nassau and Suffolk. Technically, however, Queens and Kings Counties are part of Long Island but are more commonly thought of as part of the five boroughs comprising Greater New York City.
Planning a move to Long Island? The area offers a large number of choices: houses, apartments, condos, townhomes and roommate matching services.
For the prospective homeowner, styles and prices of homes vary considerably. Older homes can be had in charming Cape Cod style or a Split-Level type. Modern styles vary from Ranch type to luxurious estates.
Real estate prices have, of course, escalated considerably in recent years but the scope and variety of homes available on Long Island assures a prospective buyer he or she will find a home suitable to their needs.
There are numerous activities in the area. Long Island has 130 museums with something of interest for everyone. The Collectors Cars Auto Museum in Freeport has a collection of classic and antique cars, the Long Island Maritime Museum in West Sayville on the shore of Great South Bay has turn of the century maritime artifacts and stages an annual vintage boat show in early summer. Old Westbury Gardens in has a recreation of an 18th century English country estate with formal gardens and paintings by the old masters.
You can choose to spend your time at a planetarium, botanical gardens or well-maintained parks and beautiful beaches. There are a number of cultural events and historical sites as well as festivals such as the Long Island Fair held in Old Bethpage Village. This fair is a 163 year old tradition of a 19th century village restoration. There are jugglers, musicians, dancers and other artists for your entertainment. For the children, there are pony and camel rides and exotic animals as well as a Punch and Judy show.
For those of us who enjoy sunning, swimming or fishing, one of the most popular places to enjoy these activities is Jones Beach State Park which is located on Long Island's South Shore in Wantagh, thirty-three miles south of Manhattan via the Meadowbrook and Wantagh Parkways. The beach offers 6.5 miles of oceanfront and one-half mile of bay beach for still water bathing. In addition, boating and fishing are popular leisure activities that can be enjoyed at this park.
Fine dining is everywhere, live theatre is offered all year round and there is plenty of night life in the many clubs in Nassau and Suffolk Counties.
Long Island has one of the lowest rates of unemployment in the United States and has a number of employment opportunities in the fields of computer technology, food service, electronics, biotechnology and medical and health care systems. There are in excess of 90,000 businesses on Long Island and the area has been fortunate enough to have escaped the worst of the economic problems that have affected New York since 2001. In the last census, the median household income in Nassau County was $72,030 and in Suffolk County, it was $65,288.