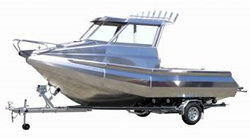 In order to safely transport your boat you'll need to make the proper preparations. It is your responsibility to have your boat ready for the move; boat transport companies don't usually do that for you. If you are not sure what to do and don't have much time you can hire a professional to do the job. Otherwise follow these guidelines to ensure your boat gets to its new destination without damage:
Any item extending beyond the specified for your vessel parameters should be removed and secured inside the boat. These include anchors, antennas, propellers, canvas, etc.
Drain fuel and water tanks.
Disconnect the battery cables and turn the battery switch off.
Remove or secure loose items such as cups, plates, toys, and other personal belongings.
Secure curtains and seat cushions.
Remove all personal possessions such as cash, jewelry, and other valuables.
Windshields should be stored and secured below. Cabin windows should be taped from outside.
Inspect all items in the interior cabin and make sure nothing is loose as these will cause damage in the process of transporting.
Remove the plug.
If you're moving in the winter you'll have to winterize the engine, water systems and any other temperature-sensitive device.
Shrink wrap is a good way to protect your vessel while moving. However, if done incorrectly it may tear and cause damage to the boat.
All items on the deck should be properly secured.
Secure hatches and locker doors.
Back to the