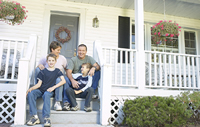 Moving can be difficult and stressful for the whole family. Some children might see moving as a chance to make new friends and learn new things; others may get anxious or develop behavior problems. As parents are concentrated on planning and organizing the moving process, some children react negatively to the decrease in attention. They may experience anxiety and grief before, during, and after the move which can last for months. However, there are a few things you can do to help your children cope better and adjust to their new environment.
Prepare them for the move - this way it won't come as a surprise to them. Be open and honest and let them know that you're ready to answer any questions they have. They'll want to learn about their new neighborhood, school, friends, etc. Explain everything clearly and in detail.
Make your kids part of the moving process as early as possible. Give them age-appropriate tasks to make them feel like they have some control over the situation. Help them sort their things out and show them the proper way of packing and marking their boxes.
Maintain routines throughout the moving process. This will be comforting especially for younger kids. While adapting to a new place, where everything seems so different, things like having the same naptime or bedtime routine could make them feel at ease.
Help them make an address book where they can keep their old friends' contact information. Encourage them to collect their addresses and phone numbers so they can stay in touch.
Get them excited about the move - visit your new house with them and walk around to explore fun new places to hang out like nearby parks, ice-cream shops, etc. Allow them to pick their own rooms. Once they know where they'll be moving to, it won't seem so scary.
Saying good-bye is important so make time for them to visit their favorite spots before you move. You could also organize a good-bye party for their friends or a sleepover.
Going to a new school and meeting new friends and teachers can make your child anxious and that's completely understandable. They'll worry about making a good impression, finding their way around the new building, or not fitting in. It would be helpful to set up a meeting with their new teacher and have an orientation. This way they'll feel more confident on their first day. Note: If possible, wait until the school year is over before moving instead of switching schools in the middle of the year. Moving in the beginning of the summer will give them a couple of months to meet new friends from the neighborhood so they won't feel like strangers when the school season starts.
Let them decorate their own room, pick a paint color, or some new furniture. This way they'll see the change as a positive fresh start.
Help them get involved in the new community. An after-school program is an excellent example of an activity which will help them make friends.
Give them enough time to adjust. You might feel frustrated when they say they don't like the new place or their new school. Don't show anger, instead reassure them that their feelings are perfectly normal and with time they'll get used to their new life. Keep positive attitude and let them know they could come and talk to you any time.
Back to the