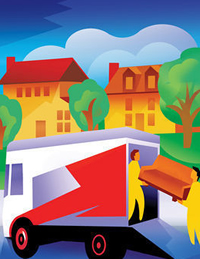 Moving heavy furniture can be difficult and requires you to know how to properly pack, lift and carry large pieces in order to ensure their safe arrival at your new place.
Beds - tie the frames together with a rope and mark the parts for easy reassembly.
Electronics (TVs, monitors, computers, etc.) - use their original boxes or buy special padded boxes.
Fridge - clean it out and defrost it. Drain the water and cover with blankets.
Dishwasher - clean the inside and take out accessories. Tape down any moveable parts and put cloths between washer sides.
Tables - remove the legs, wrap them and tie together. Collect the bolts, put them in a small Ziploc bag and attach to the tabletop with tape.
Wardrobes - fill the drawers with clothes, cover with a blanket, and rope tightly.
What's the proper way of lifting and carrying heavy objects?
To prevent injuries never try to lift more than you can carry by yourself. Hurting your neck, back and shoulders will only slow you down. Get at least one more person to help you depending on what items you plan to move. Stand with a wide stance and slightly bend your hips and knees. Tighten your stomach and make sure your back is straight. Squat and lift using your legs, not your back. Get a good grip and grasp firmly. Never twist your body to carry or lift a heavy object. If turning is required while lifting or carrying, turn your feet and body instead of twisting your back. Keep the furniture close to your body. Use a dolly whenever possible.
If you can't find a friend to help you, hire a day-laborer or a professional mover. You could check the ads in your local newspaper for help with moving. They usually charge by the hour and help with lifting and
transportation
. If you decide to go with a professional, you should insure your items just in case. Always be present when your belongings are loaded and unloaded.
And finally, keep these tips in mind:
Make a plan - create a list of all the items that have to be moved, know the address they are being transported to, and directions.
Before you start, remove any debris from the floor or low-hanging objects to prevent accidents. Make sure there aren't any slippery surfaces.
Measure the pieces and see if they'll fit through the doors.
Don't drag heavy objects across the floor. It will damage the furniture's joints and the surfaces. Use furniture sliders instead.
Use gloves if they allow for a better grip.
Back to the