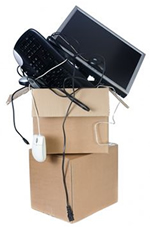 Your computer is fragile equipment which requires special consideration and care when it comes to moving. It's easy to get it to your new place safely, you just have to pack and handle it properly. Follow these suggestions to avoid any damage during the moving process:
First of all, back up your files. It might sound unnecessary but you'll be happy you did in case something happened to them. Imagine how you'd feel if all your precious data was lost! You can use floppy disks, CD-ROMs, flash drives, etc. When you are done, place them in a secure container together with the original program disks. Important - don't put them in the same box as your computer!
It's best to use the original packaging you bought your computer in. It was specially designed to safely transport it. If you threw it out, buy a special electronics box of similar size and make sure it has adequate padding like Styrofoam or bubble wrap. Your equipment should sit snugly in the box and not slip around.
Remove all disks from all drives. Turn the computer off and unplug all power cords. Next you'll have to disconnect the cables. If you are a novice to setting up a computer you might want to mark in some way what cable goes where. Masking tape is great for that purpose. Once you've labeled your cables, unplug and tie them, then place them in a bag that will be packed with the rest of the computer. Put the monitor in a box, taking special precautions not to scratch the glass. The computer tower unit should be packed upright or on its side with the motherboard side lying flat on the bottom. Failure to do so may result in altering the position of interior parts which could lead to damage. Always use adequate padding to protect from physical jarring and shock.
Pack your peripheral devices such as scanners, printers, etc. in the same manner, making sure they are secured and unable to shift in the box. Don't forget to remove the cartridges from your printer before packing.
Seal the boxes and write with large letters: "FRAGILE COMPUTER EQUIPMENT".
Getting insurance is a good idea in case the moving company damages the machine. If you're nervous about transporting it with the rest of your belongings on a rental truck, you can always take it with you in the car.
Back to the