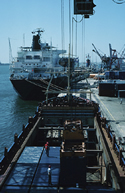 So you're contemplating the idea of moving to another country. This can be an exciting new experience for you and your family if it's planned and coordinated properly. You'll need to do a lot of research so give yourself at least three months to prepare. Unlike moving within the country, international relocation requires obtaining knowledge about the other country's culture, customs, traditions, language, etc. In addition to that there will be a lot of details and formalities associated with the trip and the transportation of your belongings.
What to research in advance:
Visa, passport and work permit requirements
Driver's license requirements and means of transportation
Insurance
Location of embassy or consulate
Employment if you don't already have a job there
Currency
Time zone
Language
Voltage difference
Schools if you're moving with the kids
You'll probably need to hire an international mover. These companies know the regulations and can save you a considerable amount of time. Because of different customs requirements and weight limitations it's best to let them manage the packing of your boxes. Remember to inquire about insurance. Consider the size of your new apartment or house and which of your belongings could possibly fit or not fit there.
Generally furniture is very expensive to ship so it's probably a good idea to leave it behind and get new stuff after you move. Make a list of all the items you're shipping in case you need to file an insurance claim with your moving company later. Pack all your important documents, passports, paperwork, visas, money/credit cards, some clothes and other essential items in your carry-on. If you're moving to a country with different voltage you should probably sell your old appliances as they will not work there without adapters and/or converters which could be expensive to buy. You can purchase new ones there and save on shipping.
Considering shipping your car? Then you'll need to know whether it meets the environmental standards required, and cost of shipping and insurance.
It's a good idea to actually visit the country before finalizing your decision on relocating there. You can read tons of information about a place but you'll only get a sense of what it could really be like living there if you see it for yourself.
Before you leave, don't forget to:
Fill out change of address order form at the post office.
Take copies of your medical and dental records, x-rays and prescription histories.
Bring your kids' school records.
Transfer your funds to your new bank.
Confirm your reservations.
Give your flight information and contact details to a relative.
Back to the