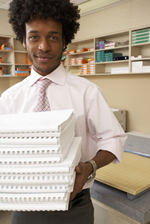 The key to a successful office or business move is planning. Give yourself at least two-three months - the earlier you start, the better. Pick a day at the end of the week for the move like Friday so you'll have the weekend to get things running. Inform your employees when and where the office will be moving and what their responsibilities will be throughout the process. Coordinating an office move is complicated and it's important to keep all the people involved up-to-date so schedule regular meetings to inform them of any new details. The better you plan, the less time it will take to get back to business.
The first step is obtaining blueprints of the new space and determining the new office layout. Plan where the furniture would go, desks, reception area, storage, etc. Now is the time to make any repairs or changes if necessary, like repainting the walls for example. Measure your furniture and see what might or might not fit in the new place. Make a list of all your items and choose what you'll take with you.
Assign a budget. To do that you'll need to identify your costs. Consider new furniture expenses, movers, new letterheads and business cards, utilities disconnect and set-up fees, moving supplies, etc.
Mail change-of-address cards to all your customers and all people you do business with. Inform your phone company and Internet provider that you'll be moving. Make sure electricity will be turned on when you get there.
Talk to each supervisor and find out what specific for their area tasks need to be completed. Appoint one person from every department to coordinate the process and make sure employees know what their responsibilities include - like packing their own desk, personal items, paperwork and other belongings.
Interview movers. There are companies that specialize in office moving and have experience in this area. Be sure to get a few estimates before deciding who to hire for the job. Pack all items securely in boxes. Your movers will probably pack your furniture for you but you'll still be responsible for the rest of the items. Have your employees empty their desks and pack their own personal possessions such as papers, money, pictures, plants, etc. Have everyone label their own boxes and create a list of how many boxes each person has. Label or color-code all pieces of furniture and mark their positions on the new floor. Give the movers a plan of that layout so they'll know what goes where. This can save you a lot of time and effort.
Gather your staff for an orientation at the new office. Have their new keys ready, access cards and new phone numbers. Other important things to remember:
Arrange for your old office space to be cleaned after you move out;
Update your business insurance policy;
Update your website's contact information;
Inform your bank, utility company, IRS, insurance company, etc. of your new address.
Back to the