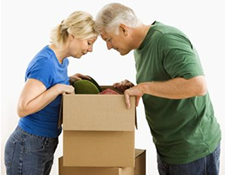 As exciting as it is to move into a new home, it does require a lot of time and work. For most of us unpacking is just as daunting as packing. You despair at the sight of dozens of boxes and simply don't know where to start…
But look at it this way - unpacking is the last part of the moving process and once you're done with it that's it! It always helps to keep a positive outlook on things. Rather than thinking about all the work you have to do, look at it as a chance to start over fresh. Don't try to finish in one day, give yourself enough time. After all, you won't need everything right away. Here are a few tips that will help you get organized and stay in control amidst the unpacking chaos:
The first box you should unpack is the one with your necessities such as soap, a change of clothes, toothpaste and toothbrush, shampoo and conditioner, snacks and water, a cup, a knife, a flashlight, some tools like a screwdriver, etc. Same applies to all family members' necessities.
It's important to have a plan. Make sure you know where your furniture would go - you wouldn't want to move your couch around the living room five times. Take notice of where the electric outlets are located. Generally, furniture like beds and tables should be placed in the rooms first, before you start unpacking everything else. Connect all major appliances like washer and dryer, dishwasher, etc. then start unpacking room by room.
It's a good idea to begin with the kids' room. Allow them to have a say in how the room should be decorated, where the beds would go, etc. This will make them feel at home at the new place and relieve some of the anxiety of moving. Once their furniture is in place, let them unpack their clothes and toys - it will give them a sense of accomplishment and keep them busy at the same time. Allow them to participate in as many unpacking activities as appropriate for their age; for example they could be in charge of removing the empty boxes.
As the kitchen is one of the more essential rooms in the house but also the most complicated, it would be nice to get it done in the beginning. It will help you reestablish routines like mealtime easier which is especially important for younger kids. It will also save you a bunch of money on take-outs. Plan to go grocery shopping soon after you arrive at the new house to restock your refrigerator.
Unpacking the bathroom comes next; it shouldn't take long considering there are not too many things that go in there.
Next, get the bedrooms done. If not everything, at least unpack and organize your clothes so you won't have to rummage through the boxes in search of what to wear. Same applies to all family members' clothes.
The living room is one of the most important rooms in the house as this is where the whole family gathers. It would be nice if everyone participated in the unpacking of this room; it will give you a chance to collectively decide what items go where.
Last but not least, the garage. Don't rush to do it on the first day you move in, chances are you won't need anything from there right away. Try to plan how to most efficiently use this space.
After everything is unpacked, refer to your inventory list and make sure nothing's missing. And remember to take breaks often and drink plenty of water!

Back to the